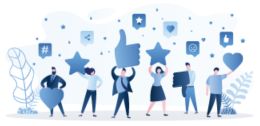 Efficency and Efficacy through the Eyes of Another
Grow Your people by evaluating their efficacy and efficiency through feedback from a variety of points of view.
OR: Profit from the results of a 360 degree analysis for an assignment, promotion, selection, performance review or pay raise. Research underlines the validity and reliability - especially of peer ratings.
Who sould be involved?
Definitely the person evaluated with her/his self-evaluation plus ...
Subordinates
Colleagues
Supervisor(s)
When relevant: external sources like customers, suppliers, stakeholders ...
What is being evaluated fully depends on Your preferences
We offer a standard instrument with about 100 items covering personality aspects, customer orientation, managerial skills, communication, gaining buy in, intercultural competence, learning agility, creativity and continuous improvement, change, conflict management, persistence.
Most of our customers ask us to customize the instrument according to their values, defined success factors or competency profile.
Customization results in highly individualized 360 degree questionnaires containing between 10 and 100 items or just free text fields.
Process and Time Frame
Let's get into contact to define which criteria are to be evaluated and how, i.e. on a scale, multiple choice or/and free text.
Let's develop a project plan together: who are the feedback givers, who sends out the questionnaires, what is the deadline for returning them?
COREWAYS provides information during the survey period on the amount of questionnaires received and whether or not mandatory feedback givers are missing.
COREWAYS evaluates the survey, creates and explains the report.
Option: COREWAYS provides feedback to the person evaluated.
Option: COREWAYS moderates a workshop with the person evaluated and those who gave feedback - optional as an online meeting.
Option: COREWAYS coaches the person evaluated strengtening her/his strengths and weakening her/his weaknesses - optional via Microsoft Teams etc.
Time frame: plan at least 10 days for the whole process, more realistic are 2 to 3 weeks.
Pricing
Example 1:
Iindividual analysis for 1 person evaluated and between 20 and 30 feedback givers.
COREWAYS standard 360 degree instrument, administration, report and feedback to company representatives:1100 Euro.
Example 2:
Executive team undergoes 360 degree feedback, i.e. 8 executives evaluated by about 350 feedback givers.
Fully customized 360 degree instrument, administration, report and feedback to company representatives as well as to the 8 people evaluated: 9999 Euro.
Example 3:
Flatrate for up to 30 360 degree feedbacks including unlimited feedback givers - within one year.
Fully customized 360 degree instrument, administration, report and feedback to company representatives: 25.000 Euro..
What to do next?
If there is anything You need or want to know before You order please let us know.
Otherwise go to 'Pace a Reservation' to check the availability and reserve dates.
Reservations are valid for 3 days. Please get into contact with us within this period for clarification and finalizing the order.
Effizienz und die Kraft, Dinge umzusetzen aus der Sicht anderer
Entwickeln Sie Menschen durch Feedback aus vielfältigen Perspektiven zu deren Effizienz und Wirkungskraft.
ODER: Nutzen Sie die Ergebnisse einer 360 Grad Analyse bei Stellenbesetzungen, Beförderungen, Auswahlverfahren, Leistungsbeurteilung oder Lohnanhebung. Untersuchungen unterstreichen deren Validiiät und Reliabilität - insbesondere bei Peer Ratings.
Wer sollte einbezogen werden?
Definitiv die Person, um die es geht, mit ihrer Selbsteinschätzung plus ...
Mitarbeitende
Kolleginnen/Kollegen
Vorgesetzte/Vorgesetzter
Falls relevant: externe Quellen wie Kunden, Lieferanten, Stakeholder ...
Was beurteilt wird, hängt ganz von Ihnen ab
Wir bieten ein Standard-Instrument mit ca. 100 Items der Aspekte Persönlichkeit, Kundenorientierung, Management-Kompetenz, Kommunikation, Überzeugungskraft, interkulturelle Kompetenz, Lernfähigkeit, Kreativität und kontinuierliche Verbesserung, Veränderung, Konflikt-Management, Stabilität.
Die Mehrheit unserer Kunden bittet uns, das Instrument entsprechend ihrer Werte, definierter Erfolgsfaktoren oder einem Kompetenzprofil anzupassen.
Eine Überarbeitung führt zu ganz individuellen 360 Grad Erhebungen miit 10 bis 100 Items oder reinem Freitext.
Prozess und Zeitachse
Lassen Sie uns im Gespräch festlegen, welche Kriterien zu bewerten sind und wie, z.B. mittels Skala, Auswahlantworten oder/und Freitext.
Zusammen entwickeln wir einen Projektplan: wer sind die Feedback-Gebenden, wer versendet die Fragebogen, was ist der Abgabetermin?
COREWAYS versorgt Sie während der Laufzeit mit Informationen über die Rücklaufquote und darüber, ob ggf. wichtige Feedback-Geber fehlen.
COREWAYS wertet die Befragung aus, erstellt den Report und erläutert ihn.
Option: COREWAYS gibt Feedback an die evaluierte Person.
Option: COREWAYS moderiert einen Workshop mit der evaluierten Person und denen, die Feedback gegeben haben - optional als ein Online Meeting.
Option: COREWAYS coacht die evaluierte Person und stärkt deren Stärken bzw. schwächt deren Schwächen - optional via Microsoft Teams etc.
Zeitachse: planen Sie minimal 10 Tage für den Gesamtprozess, realistischer sind ca. 2-3 Wochen.
Honorar
Beispiel 1:
Iindividuelle Analyse für 1 zu untersuchende Person und 20 bis 30 Feedback-Geber.
COREWAYS Standard 360 Grad Instrument, Administration, Gutachten und Feedback an Firmenvertreter:1100 Euro.
Beispiel 2:
Executive Team stellt sich einem 360 Grad Feedback, z.B. 8 Executives und ca. 350 Feedback-Geber.
An Unternehmen angepasstes 360 Grad Instrument, Administration, Gutachten und Feedback an Firmenvertreter sowie Executives: 9999 Euro.
Beispiel 3:
Flatrate für bis zu 30 360 Grad Feedbacks inklusive beliebig vieler Feedback-Geber - innerhalb eines Jahres.
An Unternehmen angepasstes 360 Grad Instrument, Administration, Gutachten und Feedback an Firmenvertreter: 25.000 Euro.
Die nächsten Schritte
Sprechen Sie uns bitte an, wenn Sie noch etwas wissen möchten oder müssen, bevor Sie bestellen.
Sonst klicken Sie bitte auf 'Pace a Reservation' um unsere Verfügbarkeit zu checken und Daten zu reservieren.
Reservierungen bleiben 3 Tage gültig. Bitte nehmen Sie innerhalb dieser Zeit Kontakt mit uns auf, um das Projekt abzuklären und eine Beauftragung festzuzurren.